Meeting Rooms &
Convention Rentals
Monona Terrace is not only designed to meet the high-tech demands of today's convention, trade show and meeting planners, it is also designed for complete accessibility and civic enjoyment. And crowning this jewel is a 68,000-square-foot rooftop garden that celebrates the cityscape. Look out over Lake Monona, the downtown skyline, and the State Capitol dome. You have found the backdrop you need for memorable and effective meetings.
MEETINGS, CONFERENCES, and CONVENTIONS
Step Outside the Expected
Monona Terrace is a convention center like no other, rising from the blue expanse of Lake Monona and just two blocks from the State Capitol and streets full of shops and restaurants. There are nearly one thousand hotel rooms within walking distance of Monona Terrace, including 240 rooms at the adjacent Hilton Madison Monona Terrace. The Hilton features direct access to Monona Terrace in an enclosed, climate-controlled skywalk, and offers an additional 2,400 square feet of meeting space.
For information on additional accommodations in Madison, visit the Destination Madison web site. To book guest room blocks, call them at 800.373.6376.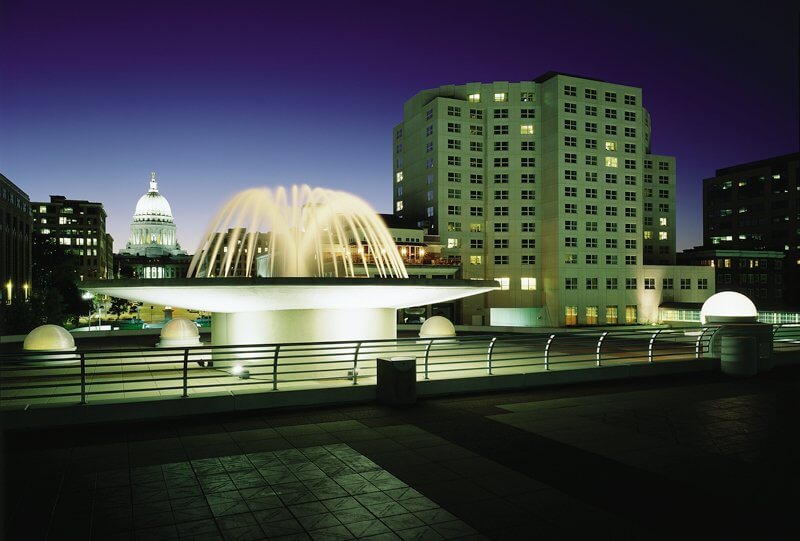 PERSONAL SERVICE
QUESTIONS?
Rooms & Spaces
Whether you´re planning a gathering for 40 or 4,000, Monona Terrace offers the best space to meet in one of the Midwest´s most vibrant cities.
Each level is made up of multiple meeting places. From formal board rooms to a 37,000 square foot exhibition hall to a stunning rooftop terrace, there is a space for every one and every event at Monona Terrace.